Best No Deposit Football Themed Slot Machine Games With Free Spins
American football is of course one of the most spectacular and most popular games in the world. With millions upon millions of avid followers around the world, the sport is just ripe for a breaking into the online casino scene-and it has, in a major way. So get yourself a cold drink and settle in for some exciting football-themed no deposit slots games ... American-style!
Field of Green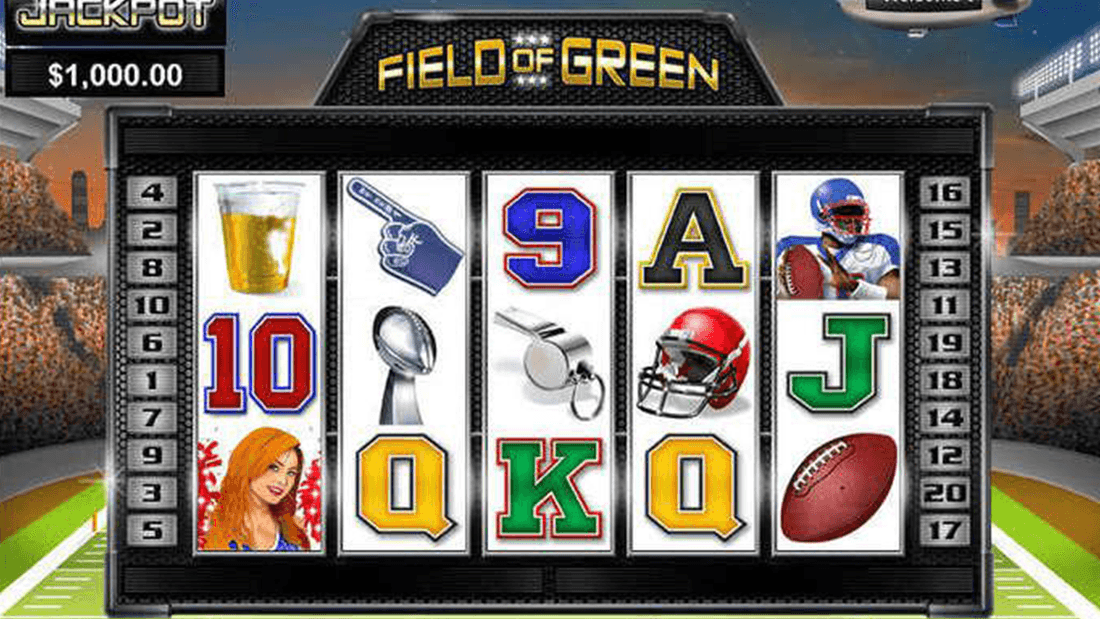 Starting things off is Field of Green, which is a five reel video slots game with 20 paylines. Offering a generous supply of free spins and a bonus game feature, this is one title that American Football fans will want to come back to time and time again!
Field of Green is developed by one of the biggest names in the casino gaming software industry, Realtime Gaming (RTG). Responsible for some of the finest titles in the online casino scene, RTG powers casinos such as Aladdin's Gold Casino and Captain Jack Casino, among others. With Field of Green, RTG has pulled out all the stops in delivering a superbly-designed game brimming with high-intensity action, stunning graphics, and superior gameplay.
As with most other games from RTG, Field of Green is especially impressive from a visual standpoint. The stadium background is the perfect backdrop upon which parades an array of familiar football icons including helmets, whistles, trophies, cheerleaders, players, and a football itself. There is also a beer symbol and-in a nod to more recent game developments-a fan index finger. Playing card symbols such as 10s, Jacks, Queens, Kings, and Aces round out the symbols selection.
Wilds are represented by the trophy. You can use this as a substitute for all the other symbols expect for the scatter, enabling you to put together winning combinations. The trophy also serves as a multiplier, doubling your payout when it shows up in a winning payline.
The football is the scatter symbol. Getting three or more of these launches the bonus game, where you can win free spins and even game credits. Free spins may also be won via field goals in the bonus round.
Play Field of Green at Sign up today and receive a $50 No Deposit Bonus
Pigskin Payout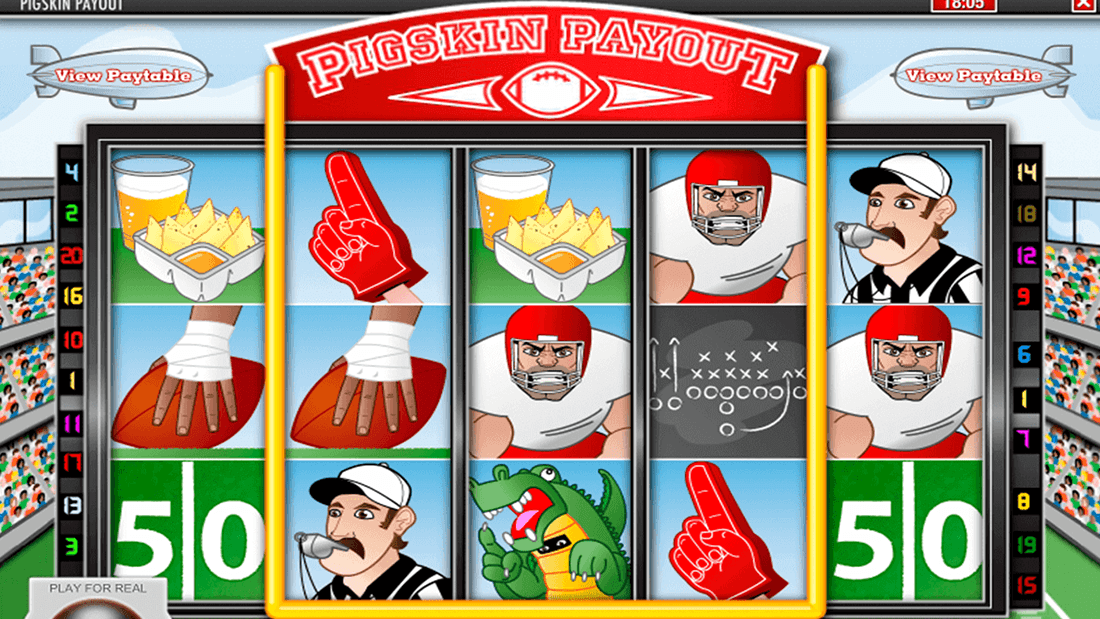 Pigskin Payout is a five-reel, 20 payline game from another big name in the casino game development industry, Rival Gaming. Utilized in such heavy hitting casinos as Bovada Casino, Rival has achieved prominence in recent years due to its string of casino gaming titles that boast of cutting-edge 3D graphics. Although Pigskin Payout is not quite as visually impressive as some of the company's more recent titles, it does have a charming cartoon theme that make it worthy of mention in this review.
What Pigskin Payout lacks in state-of-the-art graphics, it more than makes up for in terms of gameplay. The animated intro sets you up for the game proper, where the screen almost literally explodes in a frenzy of excitement. Symbols such as stadiums, balls, wild cheerleaders, and referees all populate the reels, giving you plenty of options for enjoyable gameplay. There are also play boards, footballs, and crocodile mascots that help liven up the proceedings even further.
The cheerleaders aptly serve as the wilds in this game, so you will definitely want to keep your eyes on them, just as you would in real life! Cheerleader symbols can substitute for any other symbol in the game except for scatters-for those, you will want to look out for the stadium symbols. Between the cheerleader and scatter symbols, you have a pretty good range of options by which to win some cool perks, including free spins and more.
Unfortunately, Pigskin Payout doesn't come with a bonus game. But those looking for a straightforward game will undoubtedly appreciate the simplicity, while those looking for more winning opportunities will find the wilds and free spin offers adequate.
Play Pigskin Payout at Sign up today and receive a $2000 Match Bonus
Game Day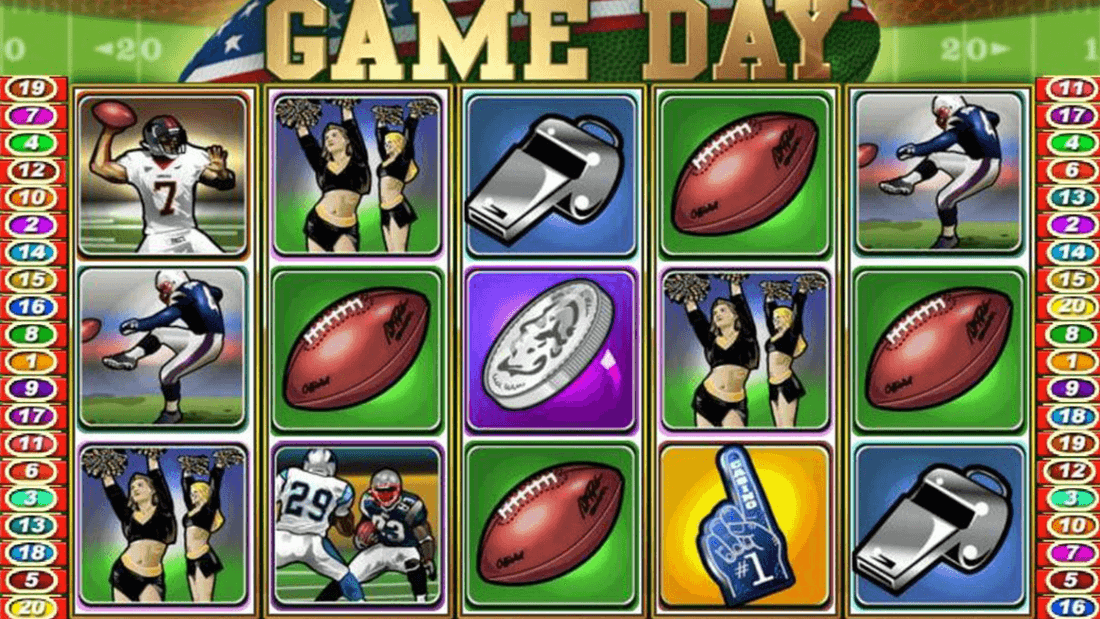 Finally, we present Game Day, which is an impressive offering from WGS Technology. Online casino denizens will undoubtedly recognize WGS as one of the purveyors of the fine games in casinos such as Miami Club among others. Boasting of intense action and excellent gameplay, WGS do deliver a thoroughly satisfying playing experience.
If there is one area wherein WGS does lag a bit when compared to the competition, it would be in the graphics department. Don't get us wrong. WGS games do have enough of what it takes to hold up in terms of graphics. But with the rapid-paced developments that have come down the line over the past few years, the company has lagged a bit behind.
Thankfully, they seem to have gotten back on track with Game Day, which is just as impressive as the games from other big-name developers, and perhaps even more so. Looking remarkably similar to Field of Green, this one just has that extra 'oomph' when it comes to the graphics. And with plenty of free spins to be had, this is one game that keeps on giving!
The game utilizes a number of symbols that should be familiar to American Football fans. Players, cheerleaders, whistle, football and fan index fingers are all pressed into action, making the game even more rewarding to football fans.
Wilds, on the other hand are represented by the referee symbol, with five of them needed to unlock the jackpot. Keep your eye out for the American Footballer bonus symbol, two of which will kick the bonus game into action. There is also the scatter symbol, which gives you as many as 15 free spins wherein all the wins are tripled!
There you have it: three of the finest American Football-themed slots games online. We hope you have as much fun playing them as we have had reviewing them. Let us know if you have some other American Football-themed slots games that you enjoy!
Play Game Day at Sign up today and receive a $No No Deposit Bonus