Top 5 Female-Powered Slots
Glam Life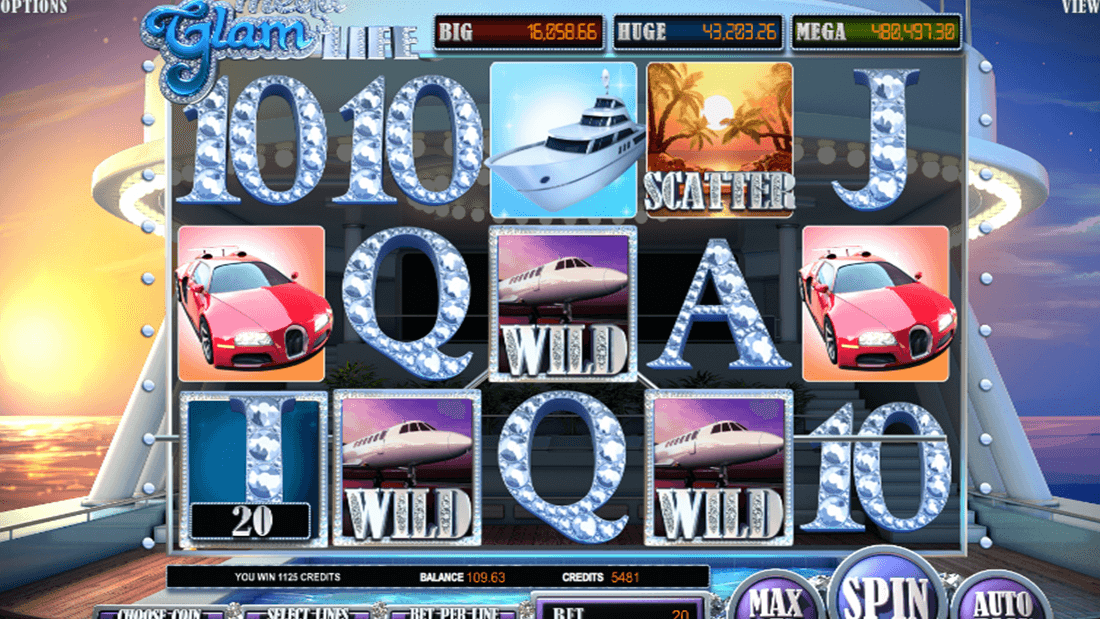 Glam Life is a 3D video slot title that has an appealingly glamorous theme. Offering five reels and 30 paylines, there is more than enough action here to keep any glamor girl and her posse well entertained! And with the option to play as many as five coins per line, the action is ideally suited for beginners while providing enough of a thrill for even more experienced players.
Perks abound in this fabulous game that will keep you coming back for more. Free spins keep the action going well past the point where other games have lost their luster, and you get a string of bonuses to sweeten the deal even further. Among these are a generous match bonus, a 'Pick Me' bonus, and a bonus round that comes with a superb "Travel Around The World" feature.
Check out the progressive jackpot feature as well that will give you a chance to win some truly stupendous cash prizes. With all the perks offered by Glam Life, your slots experience just got a whole lot more glamorous! This game can be played at /casinos/planet-7-casino//casinos/planet-7-casino//casinos/planet-7-casino/ with a no deposit bonus and a code.
Good Girl Bad Girl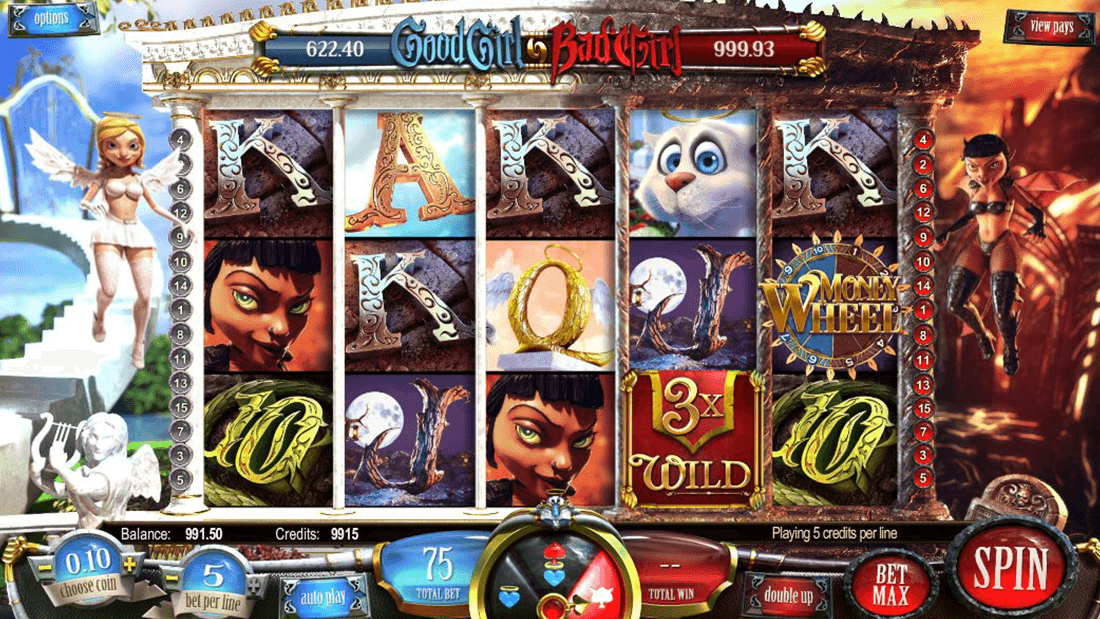 State-of-the-art 3D slots action is yours to enjoy in this delightfully frantic romp that explores the classic dichotomy between good and evil. Aptly named Good Girl Bad Girl, the game comes with five reels and 15 paylines, providing enough action for any girl regardless of persuasion. And with five coins per line, you can bet that this is one of the most enjoyable slots games you will ever play.
Good Girl Bad Girl has pretty much achieved classic status in the online slots world, and it is easy to see why. With wild symbols galore, a Moneywheel bonus, and a "Click Me" feature with 'good' and 'bad' variants, this is a slots game that has something for everyone. Players are also given the opportunity to control their destiny, which is a great option to have in a thoroughly engrossing game.
Also keep an eye out for the 50/50 double up feature and the special rounds that will keep you on the winner's route. With Good Girl Bad Girl, there is no end to the fun that you can have!
Dark Hearts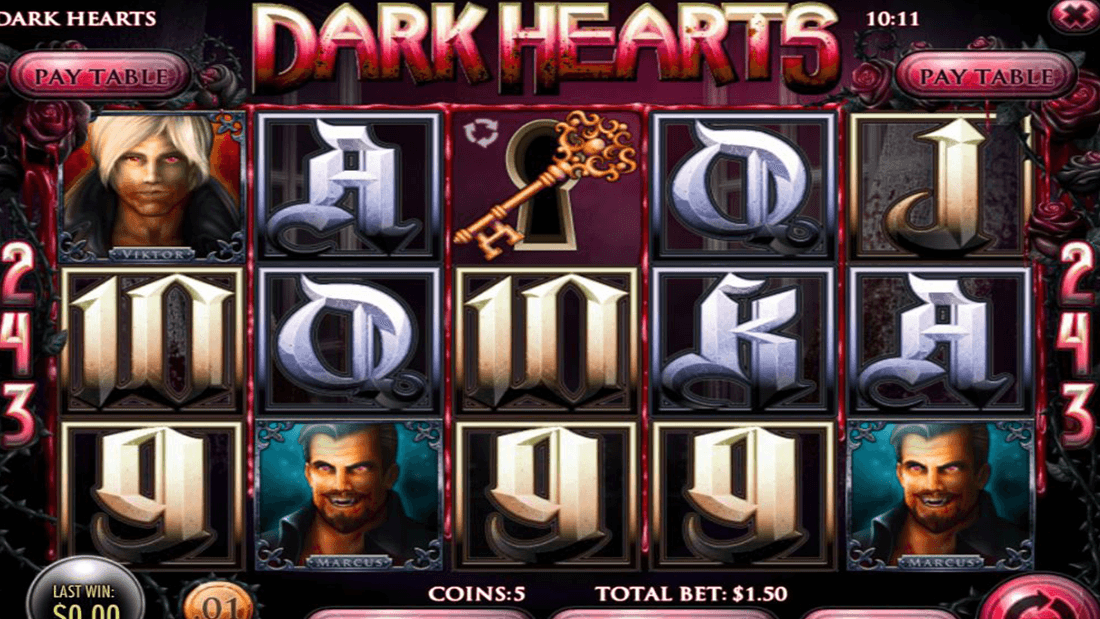 Don't look now, but Dark Hearts could very well be the most captivating slots game you could ever play! Building on the hugely popular 'vampire romance' genre, the game follows the travails of ancient vampires Victor and Marcus as they try to win the heart-and soul-of their object of affection, Willow.
The catch is that Willow is resistant to their charms, and the silver crucifix she carries with her at all times makes her able to resist the advances of the amorous pair. Even with their offerings of roses and mysterious drinks from their chalice, they are unable to capture Willow's heart thus far.
A five reel game with a staggering 243 playable lines, Dark Hearts is one of the biggest slots games available. There are ten coins per line as well, so you know that this isn't your ordinary slots games. And with free spins, multipliers, and various other uniquely thrilling features, the gothic-themed Dark Hearts might just have you giving in to your darkest slots desires!
Sirens' Serenade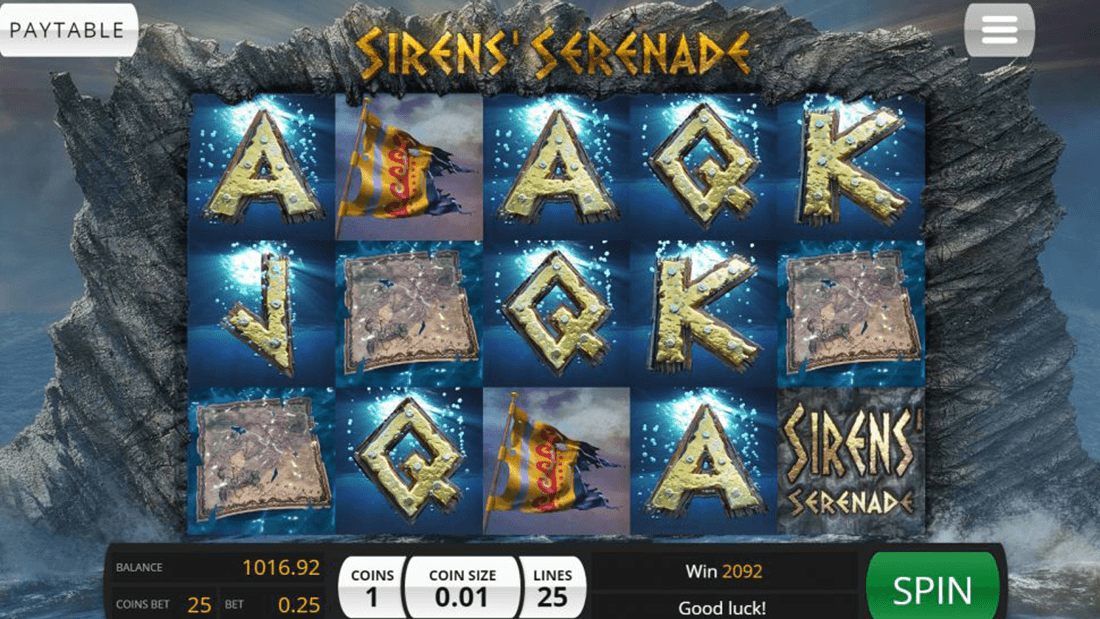 Sirens' Serenade strands apart in the online slots world with an enchanting mythical sea theme that delivers outstanding excitement, playability, and fun. Set in the middle of a raging sea amidst a fearsome backdrop of crashing waves, the game isn't for the fainthearted. But women with a taste for the more exciting things in life will definitely appreciate having a slots game that is tailored specifically to their more rugged tastes.
Sirens' Serenade has five reels and 25 paylines, providing players with a good balance between simplicity and action. Five coins are in play per line, making it suitable for players of all levels.
Pay close attention to appearance of the Siren, which represents a double wild. This effectively takes up two spots on the reels, allowing you to put together some outrageous winning combos. Instead of spelling disaster, the rock actually serves as the scatter, potentially revealing three or more scatter symbols. Unlock the free spins feature and you can get as many as 18 free spins, with each essentially doubling your winnings.
Sugar & Ice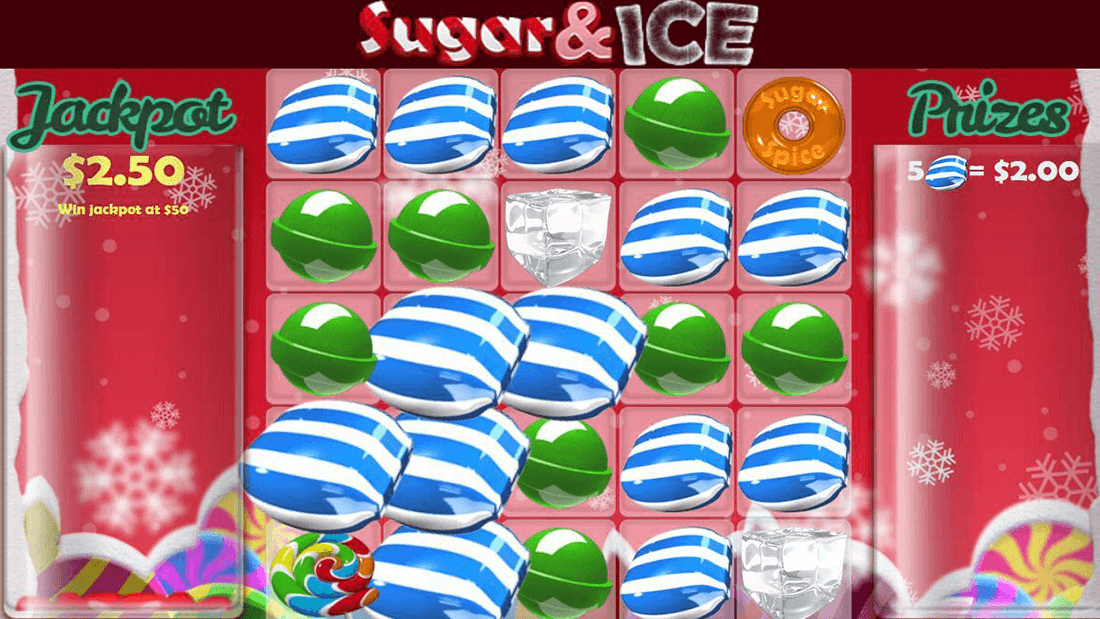 Finally, check out Sugar & Ice for a female-friendly slots game that raises the bar for playability, action, and sheer enjoyment level. A 'chain reactor' type of game, this arcade favorite comes with a cascading number of reels, a 5 x 5 grid of playable lines, and various other cutting-edge features.
Perks included in Sugar & Ice are a session jackpot and wild symbols. The latter are always welcome features to have in slots games, giving you the advantage of completing instructor categorized as "near misses". Wild symbols also enable you to boost the payout rates for natural wins, giving you more money to play with or stash away.
As exciting as the wild symbols are, the session jackpot feature is even more so. This essentially rewards each and every player with her very own jackpot, which they can win at their pace. All jackpots are put aside and saved until some lucky female is fortunate enough to bag it.
The 5 x 5 grid is another feature that can increase your enjoyment of the game considerably. Every winning combination gives players the requisite reward, and then additional symbols are added into the mix, this goes on until no more winning combinations are possible.
Conclusion
These are only some of the female-powered slots available in the online casinos. Check them out and explore other female-friendly options, and you will see just how rewarding slots games can be!