How USA Online Casinos Keep You Coming Back For More
A rewarding experience for new and existing players
But online casinos and land casinos have a lot more in common than you might think. In both types of gambling establishments, one of the primary goals is to attract as many players as possible. Both types of casinos also aim to have their customers coming back on a regular basis. And the most effective ways to achieve these goals is by offering loyalty rewards and welcome bonuses.
Casino rewards come in many forms. In land casinos, they are usually given in the form of "complimentaries" or "comps", which may themselves come in the form of free chips, free drinks, hotel room accommodations, and vacation packages, among others. Loyal players at land casinos are also typically granted VIP status, with perks such as exclusive invites to special events, valet parking, account managers, and so on.
Online perks
Online casinos have their own ways of rewarding loyal players. VIP programs are quite common among the more established casinos, and they provide regular players with many of the same perks that land casinos offer to their customers. In some of the finer online casinos, loyal players may receive free chips, free spins on the slots, invites to exclusive events, and even free vacation packages and hotel accommodations.
Let's take Slotland Casino as an example. An innovative online casino owned and operated by Slotland Entertainment S.A., the casino has an excellent three-tiered VIP program that rewards players with bigger and better perks the higher up the VIP ladder they get. Grouped into Bronze, Silver, and Gold levels, the VIP program is a large part of what keeps players coming back for more.
Sign up today and receive a $33 No Deposit Bonus
Grande Vegas Casino is another example. Opened in 2009, the casino has consistently attracted a loyal following, due in large part to its superb VIP program. Considered one of the most generous programs in the online casino world, the casino's VIP Club rewards players with redeemable points every time they play for real money.
And then there's Jackpot Capital. A Vegas-inspired online casino catering mainly to high rollers, it has a comp points program that guarantees players one point for every $10 wager. The player can then keep earning more and more points with subsequent sessions, with 100 points redeemable for $1 in real credits. The casino also has a VIP club that rewards loyal players with bonuses and other perks.
Keeping track of your comps and bonuses
Keeping track of your bonuses and comps tend to be easier in an online casino, as all transactions and records are registered automatically. It is still a good idea to monitor your player account regularly-especially after performing any major transactions-but you generally won't have to do a lot in terms of keeping your comps and bonuses in order.
Many VIP programs do come with a personal account manager who will handle most every aspect of your account for you. Short of actually performing transactions in your name, your account manager basically ensures that every aspect of your account is in order, from available funds, redeemable points, rewards, exclusive offers, and so on.
In contrast, land casinos typically require you to have a more direct hand in managing your bonuses and other perks. Because there is no such thing as a land-based casino account to speak of, the only way to keep track of your bonuses and comps is by holding on to physical vouchers and coupons. If you do manage to make it to the VIP club, you may be granted a personal account manager, but this is usually reserved for only the highest rollers.
Online casino perks
Generally speaking, online casinos enable players to enjoy many of the perks that would typically be available only to the most valued players in land casinos. Because online casinos have very little overhead as compared to their land-based counterparts, they are able to offer a wider range of perks and bonuses. Here's are a few examples of what some online casinos are able to offer in the way of bonuses and promotional perks.
Raging Bull Casino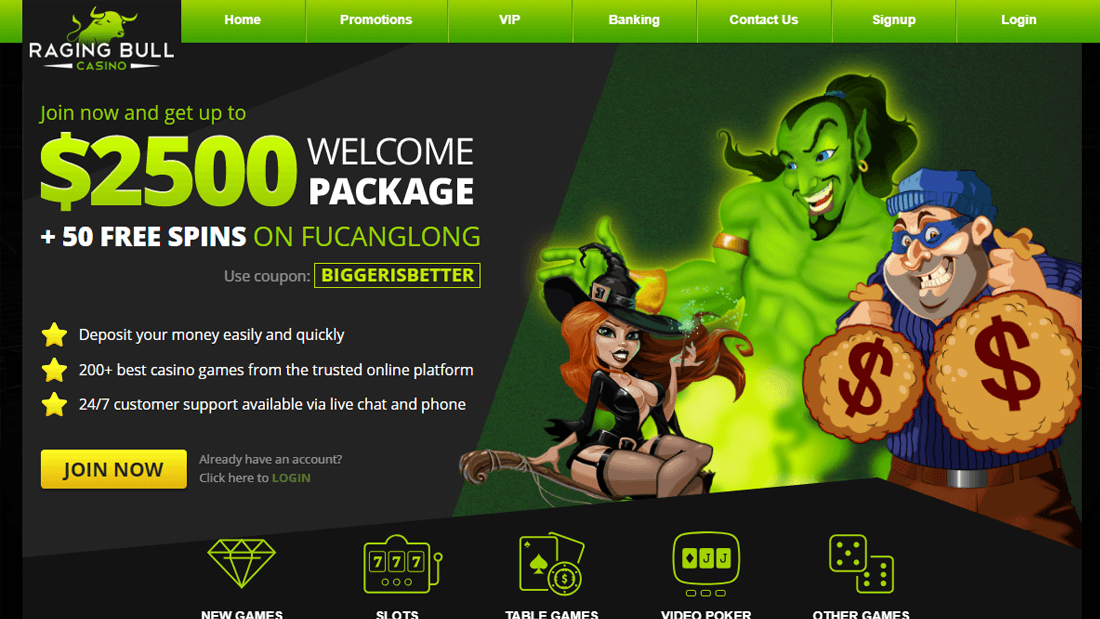 Raging Bull has a $65 no deposit bonus offer that allows a maximum cashout of $100. This offer has a wagering requirement of 35 times the bonus amount.
The casino also has a 50% cashback bonus of up to $500, which is available every Monday. Other bonus offers include 77% in total bonuses on your first three deposits every Wednesday, a $1,500 match bonus plus 25 free spins every Thursday, and even more cash and free spin bonuses on Fridays, Saturdays, and Sundays.
Play Dirty Dancing at With a $15 No Deposit Bonus using code 15NDB
Grande Vegas Casino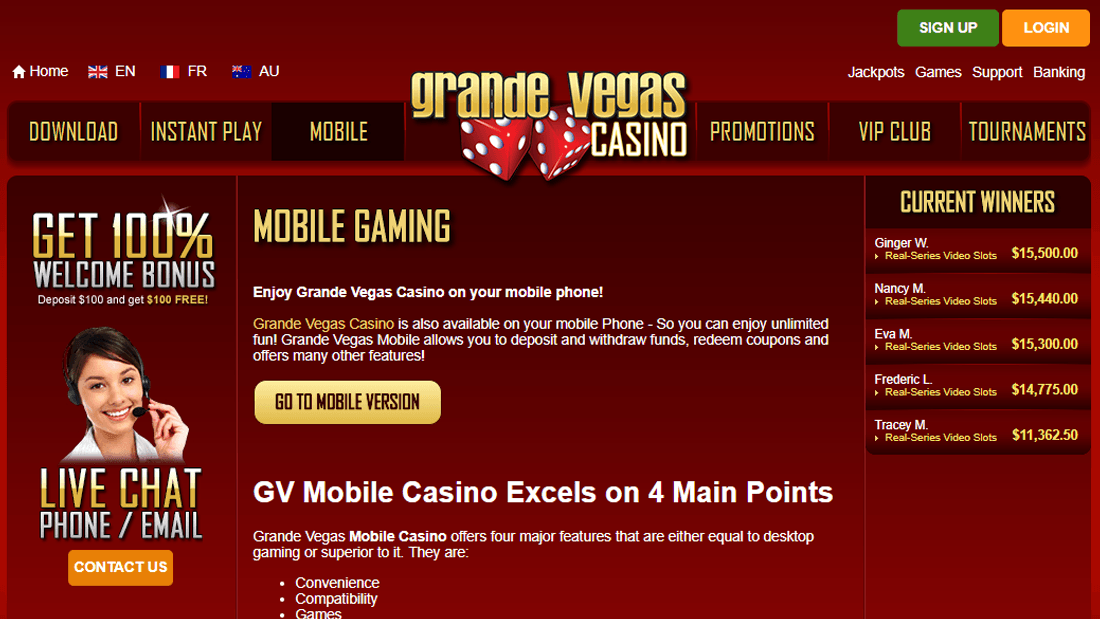 Grande Vegas has a coupon code program that grants new players cash bonuses upon signing up. For starters, there is a $100 welcome bonus on the first deposit, with a 30 x wagering requirement for the deposit plus the bonus. The casino also has a 50 free spins offer on Ghost Ship, with no deposit required.
Jackpot Capital Casino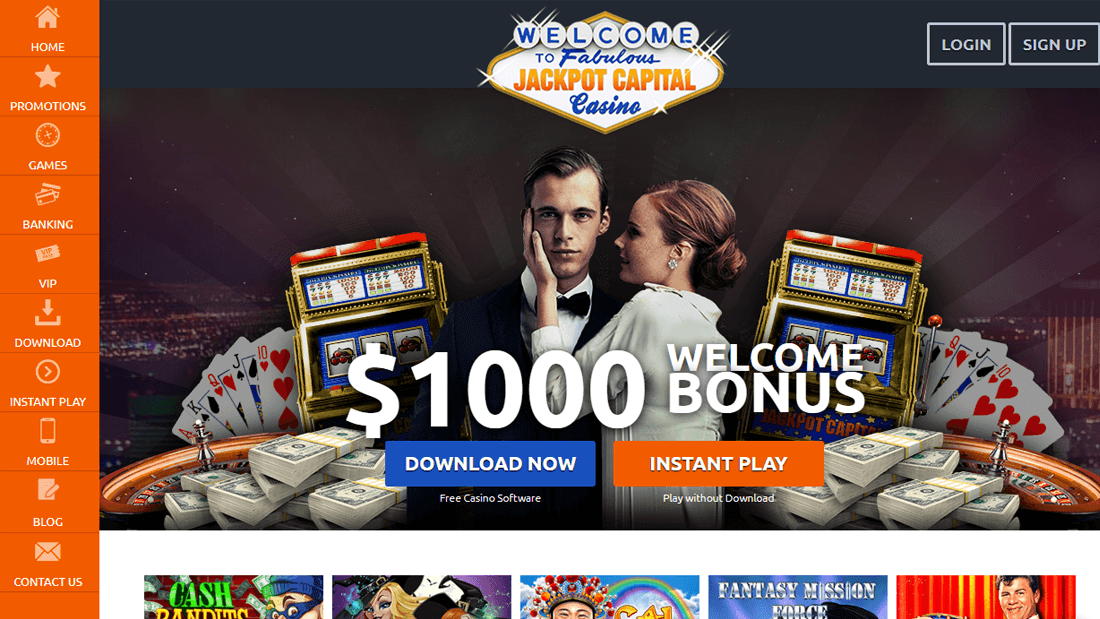 Jackpot Capital has a welcome bonus that is one of the most generous in the online casino industry. Up to $1000 total may be availed of by new players with their first few deposits. The offer also comes with up to a hundred free spins, and has a wagering requirement of 30 x the deposit plus bonus amount.
The casino offers a wide range of other bonus promotions besides. From $100 in free cash during the Tuesday on the GO promo to the $400 available with the Saturday Night Fever promo, the casino makes it easy for anyone to get started with even a modest deposit.
A rewarding experience either way you play
As you can see, online casinos and land casinos both offer their customer a wide variety of perks, bonuses, and other come-ons that make the experience more rewarding. Whether you opt for the realism of a land casino or the enhanced experience of an online casino, you can be sure that the rewards are never far away!